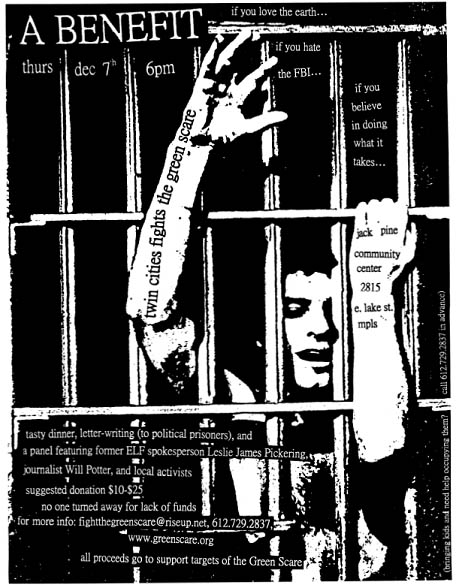 Last year folks around the world organized 42 events in 29 cities to raise awareness of the "Green Scare," and the labeling of environmental advocates as "eco-terrorists." Among the highlights were speaking events, benefit concerts, protests, letter writing parties and many other creative ways to build community and fight back the fear-mongering.
December 7th marks the 2nd anniversary of the so-called "Operation Backfire" arrests of environmental advocates, who were charged with property crimes that didn't harm anyone, like vandalizing SUVs, and hit with "terrorism enhancement" penalties. And November 16 marked the first year of incarceration for most of the SHAC 7 defendants: a group of animal advocates who weren't charged with illegal acts like vandalizing corporate offices, but who vocally supported those who did.
This year, it looks like there are some more events planned. Potomac Earth First has issued a call to action saying, "This attack was not just on radical environmentalists this attack was on the entire environmental movement and American people." Here's a bit more:
On December 7th we ask you to organize your college campus, community, or what ever it maybe to hold an event in solidarity with those who have been rounded up by the F.B.I. Be it demo at the local police department, movie on radical environmental, animal rights activism, (Behind the mask and Pick Axe are two good examples) or letter writing campaigns.

On December, 8th 2007 Potomac Earth First! is calling for a non-violent Green and Black anti-authoritarian march to the FBI Headquarters to demand that these alleged activists be freed and all charges dropped! We will be starting Farragut Square and marching to the F.B.I headquarters from there at one pm.
What other events are being planned in your communities? Post a comment and let everyone know.