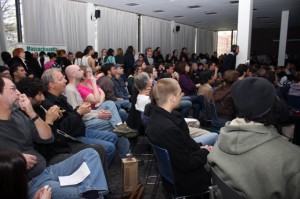 I'll be speaking at the Worcester VegFest on Sunday, April 17, 2011. Last year they had quite a crowd, and this year organizers are expecting even more. Other speakers include Bruce Friedrich of PETA, and vegan cookbook author Terry Hope Romero. And did I mention food? Lots and lots of food. As I'm sure you can imagine, the VegFest organizers really had to twist my arm to get me to do this. I apologize in advance if the gluttony results in me speaking in sweatpants.
There will be plenty of copies of Green Is the New Red on hand, and after my talk there'll be a book signing. Check out the Facebook event page to RSVP. Hope you can make it!
Here is a full listing of book tour events.