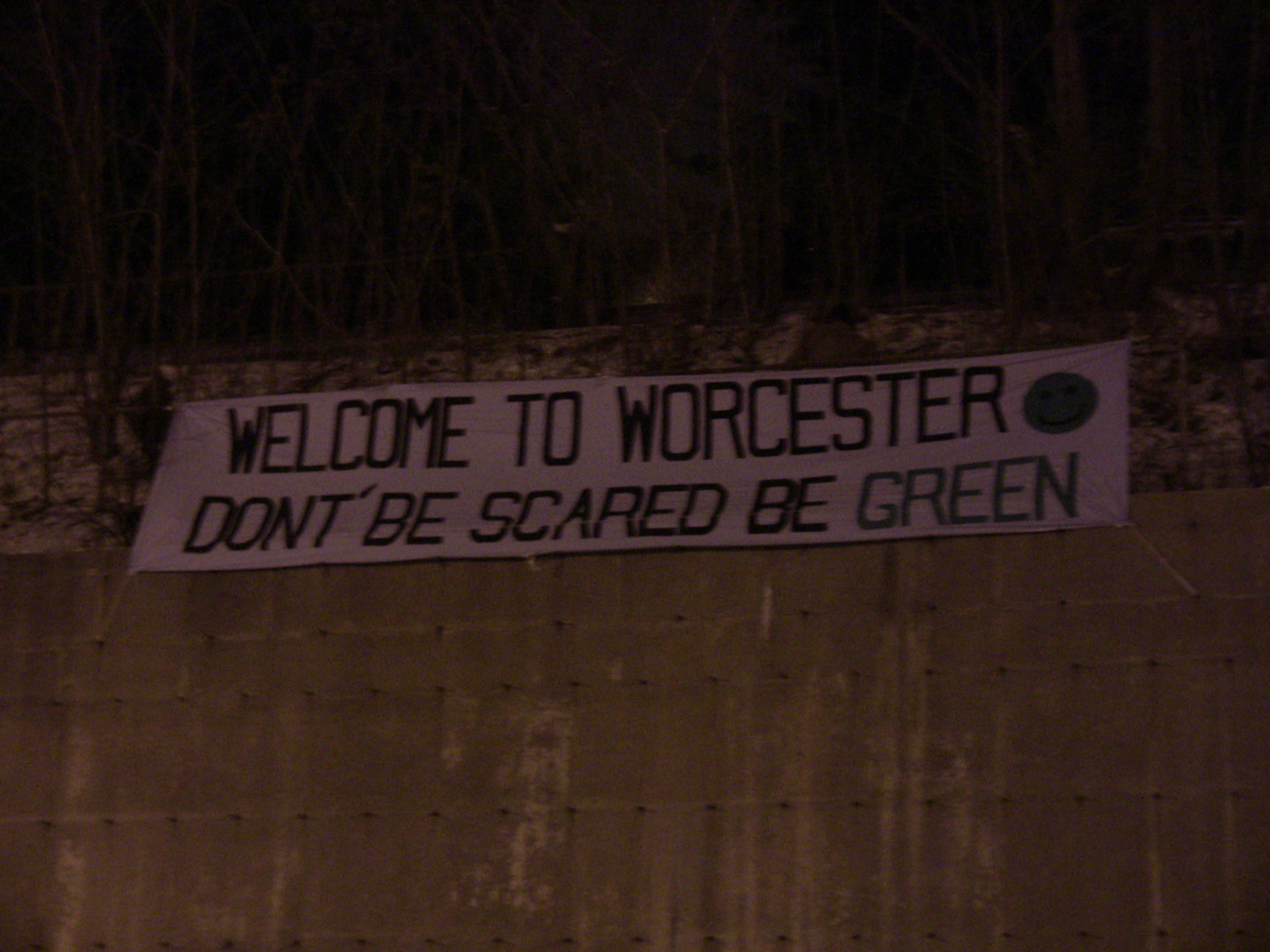 This "banner drop" was outside the Earth Crisis show in Worcester to "call attention to the Green Scare, celebrate Jeff Luer's shortened sentence, make leap day more fun, etc." There's more at Worcester Indymedia:
On Friday February 29th, Leap Day, Worcester Activists Welcomed Earth Crisis concertgoers with a banner that read WELCOME TO WORCESTER—DON'T BE SCARED BE GREEN that was dropped across the street from the Palladium where the concert was being held.

Worcester Activists used their extra day this year to make the statement that the radical environmental movement will not be made weak by the multiple levels of governmental and police repression that has come to be known as the Green Scare. We hope that this action will inspire others to continue to fight to stop environmental destruction, cruelty to animals, and social injustice wherever it may be found.

The Activists who took part in this action stand in solidarity with Jeff Luers, who's draconian sentence was reduced by 13 years yesterday, Worcester's V-day encounter with the green scare, and in memory of Avalon and Gypsy and all those who have given their lives to the struggle.

We are not afraid. Dissent will not be silenced. It will grow and spread like wildfire.
Something I haven't written about nearly enough, and something I think is absolutely critical to understanding where the radical environmental and animal rights have come from, is the influence of punk and hardcore music. Many people I've interviewed say bands like Earth Crisis were instrumental in shaping their own beliefs, and their tactics. For instance, Peter Young, a convicted "eco-terrorist" who released thousands of mink from fur farms, said:
My shift to activism was inspired by the mid-90s straight-edge scene. Bands like Abnegation brought me from the "self-hating vegan" phase to one of action, and understanding this was not another "single issue," but something much more urgent than I had admitted. We listened to the Earth Crisis demo every night before masking up and hitting those farms in 1997. I've been vegan and straight edge for 11 years.