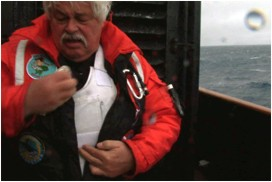 Call me Ishmael.
I mean, call me an "eco-terrorist."
I mean, call the Japanese whalers complete hypocrites.
So, you remember how whalers held members of the Sea Shepherd Conservation Society hostage when the activists boarding the whaling boat in order to deliver a letter? Well now the whalers have turned to physical violence, shooting Paul Watson, captain of the Steve Irwin, in the chest.
Whalers are, not surprisingly, trying to spin what happened, and so is Sea Shepherd. But a few things seem pretty clear. Members of the Sea Shepherd crew threw stink bombs, bottles of butyric acid (an acid found in rotten butter), aboard the whaling ship near Antartica. In return the Japanese say they threw "sound balls," a pretty hilarious euphemism for what police and the military call concussion grenades or flash grenades. One member of the Sea Shepherd crew was hit by a grenade and suffered minor injuries.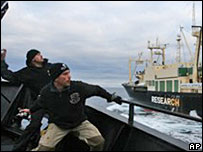 About this time, Watson says he felt something hit his chest, and discovered a bullet lodged in his bullet-proof vest. He told the Australian Broadcasting Corporation, "but it also came through and I have this badge and it hit the badge and bent that too so it just left a bruise really on my chest – so it could have – if I wasn't wearing the vest it could have been pretty serious."
[Here's some good footage from CNN.]
The Australian Embassy was told by the Japanese that the whalers fired "warning shots." Sea Shepherd says that's not true.
From a statement by Sea Shepherd: "Captain Watson is now in a comfortable condition, and no whales are being slaughtered in the name of bogus research by these illegal poachers."
Ok, now just so we're all getting this straight. Sea Shepherd disrupts illegal whaling operations, harasses whalers, and sends a boarding party with a note that explains what they are doing, and why the whalers must stop. Whalers respond by holding crew members hostage. Sea Shepherd tosses stink bombs. Whalers respond with concussion grenades and a gunshot to the chest.
Taking hostages and using physical violence are pretty traditional "terrorism" tactics (tactics the environmental movement, it should be noted, has never used). So if the T-word is going to be used at all here, should it be used against the people taking hostages and using violence, or against the folks with the stink bombs?
Well, the "Institute for Cetacean Research," the whaling front group, said it "was disappointed that more serious means were required today for defending its research vessels in the Antarctica against more violent attacks by the terrorist group, Sea Shepherd."
And, perhaps my favorite part in all of this: the whalers condemn the Sea Shepherd for using stink bombs, because "it will be causing damage to the Antarctic environment."