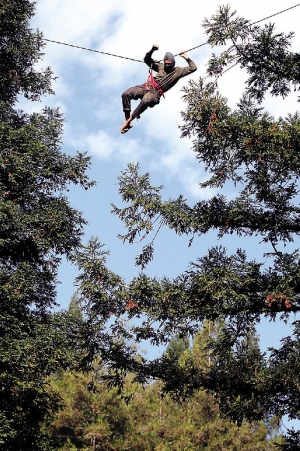 UC Santa Cruz has been cracking down on tree sitters and their supporters, who are trying to protect Redwoods from UC development plans. There have been arrests and police pepper-spraying students, but what caught my attention in this article is the wording that the university is using in court. From the Santa Cruz Sentinel:
The Regents filed a civil complaint Dec. 14 against six defendants, two of
whom are students, and up to 50 unidentified supporters in connection with
the tree-sit, which is designed to oppose UCSC's future expansion plans.
Demonstrators climbed more than 70 feet into the trees, which would be cut
down to make room for a proposed biomedical facility.

This week, the Regents added UCSC physics professor Zach Schlesinger and
Oliver Schmid of Berkeley to the list of defendants, saying they "aided
and abetted" the demonstrators by bringing them food at separate times
over the campus' holiday break. The ninth defendant, a one-time student,
was arrested Dec. 20 trying to climb a tree, and was later added to the
complaint.
"Aided and abetted"? A physics professor gave the students some food. What's next? Charging folks with "material support for terrorism" by sending tofu to the "eco-terrorists"?
I shouldn't make light of this, though. As I noted recently, the CIA has identified ninjas as a priority in the War on Terrorism. Then, we found out the ninjas are planning on converging in Minneapolis for the RNC. Now, things are clearly much worse than I had ever expected. As you can see clearly in this photo from Santa Cruz Sentinel, ninjas are threatening UCSC's development plans.