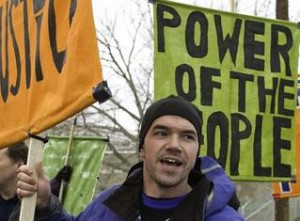 Environmentalist Tim DeChristopher has received a longer prison sentence for non-violent civil disobedience than people who have burned churches, threatened African-American leaders, and plotted to kill people.
DeChristopher was sentenced to two years in prison today for disrupting an illegal oil and gas lease auction. Meanwhile:
These examples aren't isolated instances. They can be mixed and matched with countless others. The point, as we have seen consistently, is that people who break the law in order to stop an injustice, who break the law in order to make the world even the slightest bit better, are met with disproportionate penalties compared to those who break the law for greed, hatred and revenge.

And of course, the disparity becomes even more extreme if we also consider the criminal activities of corporations– including the corporations DeChristopher protested, and the corporations which lobbied for him to receive a harsh sentence.
As Jamie Henn of 350.org tweeted recently: "Wall Street wrecked the economy & got billions in bail. Tim stood up for his beliefs and gets 2 years in jail."