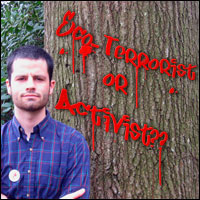 The consequences of recklessly labeling people as "terrorists" extends far beyond the courtroom, where the word can automatically skew jurors and lead to inflated sentences. And the consequences even extend beyond the sweeping "chilling effect" that the word has on the general public, instilling fear in everyday people that they, too, could be labeled a terrorist. Even after trial, even after serving time in prison, it's impossible to shake an "eco-terrorist" label.
I haven't written much about this because the targets in recent "eco-terrorism" and "animal rights terrorism" cases are, overwhelmingly, still in prison. The Operation Backfire defendants are just starting their terms, and some are still in court. Peter Young, the first prosuection for "animal enterprise terrorism" is out of prison, but only one of the SHAC 7, Darius Fullmer, has been released.
Here's a case, though, from a few years ago that's still trailing one environmental advocate who is pursuing very mainstream, above-ground work.
As a student at Freeman High School, in 2002, John Wade and two others poured Karo syrup into the gas tanks of construction vehicles at the development site of a mall and some suburban homes. They also poured etching fluid on some glass and broke some equipment. In a turn of events quite similar to the Operation Backfire cases, one of the defendants turned on the others: the cooperating defendant received less than six months, Wade got three years.
He's out now, and says he no longer supports property destruction. He's now 22, studying at Virginia Commonwealth University, and putting together Richmond's first environmental film festival (with Ralph Nader billed as a speaker). By all accounts, he was doing everything right: seeing the error of his ways, becoming a productive member of society, using lawful means to promote change.
But once you've been labeled an "eco-terrorist," none of that seems to matter. Style Weekly heard about his criminal record, pulled its sponsorship of his event, and ran an article headlined, "Former Eco-Terrorist Organized Environmental Film Festival." [As an aside, I think it's hilarious that Style Publisher Lori Waran is quoted lamenting the situation, saying "It is too bad the history of the organizer is distracting from the message of the event." Mind you, this is in her own publication, as it is smearing Wade as an "eco-terrorist."]
Karri Peifer at Richmond.com interviewed Wade, and here is a highlight:
Do you think you should have disclosed your past to the sponsors and speakers involved with "The Biggest Picture" and do you think other sponsors will be influenced by this?

It was definitely something that I thought about and it was a conscious decision not to. In retrospect I certainly would have, but I was trying to keep that and the film festival separate.
No [I don't think other sponsors will pull out]. Other sponsors have told me that, if anything, it's a story of making mistakes and turning it around and being really productive. Other people have contacted me and they're all really supportive and they're really supportive of the festival. [The festival] has gotten to be really big and people are excited about it and I don't think they're going to let something like this get in the way of it.

Do you think you've paid your debt to society, and how did your prison time influenced your life?

Yeah. I was involved in what amounted to vandalism and the government punished my intent. That is they punished the fact that I had a political motivate. They did so by investigating me with a task-force of FBI agents and then putting me in federal prison for three years when I was 18 years old. I think any debt I owe is paid in full. I can't ever vote or carry a gun or visit certain countries. [Prison] was a good opportunity to read and crystallize my thinking, how I thought about different political and social issues. It allowed me to experience first hand the underbelly of the United States and that is our extremely large prison system. The United States incarcerates more people per capita than any other county in the world. It's scary, the length of sentences they're handing out for political-motivated crimes, like mine, and for nonviolent drug offenses. I think in 2002, the year I committed my crimes, the average sentence for a homicide was seven years and the average sentence for a crack offense was 11 — if that tells you anything about the government's priorities.