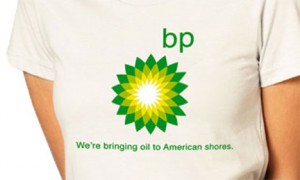 Seven members of Greenpeace have been arrested for painting anti-drilling slogans, in crude oil, on a drilling support ship in the Gulf.
Greenpeace says the ship is scheduled to sail to the Arctic this summer, so they rappelled down the side and painted "Ban Arctic Drilling" in oil on the side of the Shell-owned ship.
According to the New York Times, the New Orleans Joint Terrorism Task Force of the FBI "is looking into the matter" of whether the non-violent activists will face terrorism-related charges.
If you've been to GreenIsTheNewRed before, you know "terrorism" laws have been recklessly used against non-violent activists for years. The scare-mongering around this disaster has been particularly bold, though. Just a few weeks ago, Rush Limbaugh was trying to blame the oil spill on "eco-terrorists." Now, in the wake of the worst environmental disaster in U.S. history, we are to believe it is the activists, not the oil corporations, who are the criminals?
Phil Radford of Greenpeace put it well:
"It is outrageous that prosecutors would confront peaceful protesters with such a heavy hand while not a single BP executive has been charged for the devastation they have wrought on the Gulf of Mexico and the people and animals that depend on it…"

Thanks to B. Shuga for the link.