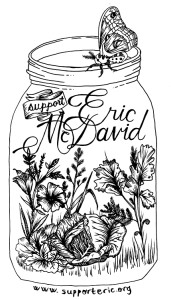 Today, June 11th, is an international day of action in support of Eric McDavid, Marie Mason, and longterm anarchist political prisoners. Eric McDavid was sentenced to 20 years in prison after an FBI entrapment campaign, and Marie Mason was sentenced 21 years as a "terrorist" for destroying property.
Those prison sentences are so extreme not because of the nature of the crime — no one was harmed, and they are triple the average sentence for those crimes — but because of the politics of Eric McDavid and Marie Mason.
Check out this new radio documentary by Miranda Gibson and learn more about their cases:
We look at why these two are considered to be political prisoners and the movement of prisoner solidarity around the world. We explore the significance of these cases from a global perspective and talk about June 11th, the international day of solidarity with Eric and Marie.

Featuring: Jeff Luers (former political prisoner), Will Potter (author of Green is the New Red), Jenny (Sacramento Prisoner Support) and Peter (Support Marie Mason).

Credits: Produced by Miranda Gibson. Audio Post Production by Brendan Kays.
[soundcloud url="http://api.soundcloud.com/tracks/96250878″ params="" width=" 100%" height="166″ iframe="true" /]
Write them:
Marie Mason #04672-061
FMC Carswell
Federal Medical Center
P.O. Box 27137
Fort Worth, TX 76127
Eric McDavid 16209-097
FCI Terminal Island
Federal Correctional Institution
PO Box 3007
San Pedro, CA 90731