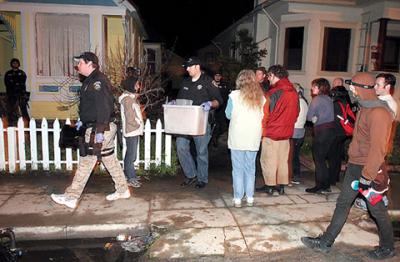 From The Santa Cruz Sentinel:
Dozens of police cars surrounded a home on the 700 block of Riverside Avenue in Santa Cruz on Sunday night as a crowd of onlookers gathered to watch the events unfold.

According to Frank Male, the owner of the house, three UC Santa Cruz seniors live at the residence. Male said police contacted him earlier Sunday because they wanted to talk to the students about an ongoing investigation. Male said he later learned the students were animal rights activists.

Male said police told him they went to the house in the late afternoon to talk to the students, but the students slammed the door in their face and told them to get a search warrant…

Police on scene declined to say why they were there.
Santa Cruz has also been in the news for the recent tree sits.
I don't have any more details on this right now. If you do, please post a comment…