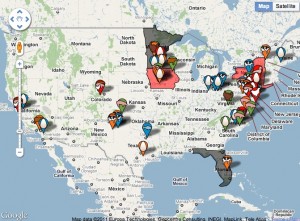 A bill introduced in New York would criminalize undercover investigators who expose animal cruelty at factory farms and animal experimentation labs. The proposal is similar to other "Ag-Gag" legislation recently introduced in other states.
The bills targeting undercover investigators in Iowa, Florida, and Minnesota have been met with such public outrage that two of them (Florida and Minnesota) have already failed. The remaining bill in Iowa has faced bipartisan opposition, including national Republican political pundit Mary Matalin.
Because of the overwhelmingly negative public response, the New York bill is slightly different. Proponents of the Ag-Gag bill have tried to shift the discussion away from undercover investigators. Instead, sponsor Patty Ritchie describes S5172-2011 as a tool to fight "meth addicts" and protect "the safety of our food supply."
But this bill is not about "meth addicts."
S5172 criminalizes undercover investigators and whistleblowers by targeting "audio recording or photography done without the farm owner's written consent."
What are these factory farms trying to hide? Well, a recent investigation by Mercy for Animals at New York's largest dairy factory farm, Willet Dairy, exposed calves having their tails cut off without pain killers and being dragged away from their mothers. And a Compassion Over Killing investigation of Hudson Valley Foie Gras in New York showed workers forcing tubes into ducks' throats.
It is no coincidence that politicians like Patty Ritchie (who campaigned on an ag-friendly platform) and Catharine Young (who has championed the $30 million Dairy Assistance Program) are introducing legislation that would shield their corporate constituents from public scrutiny. This has been the pattern nationally. As this map reveals, the states with the highest concentration of undercover investigations are also the states that have introduced legislation criminalizing those investigations.
This New York bill, like all the others, is about criminalizing and prosecuting anyone who threatens corporate interests. Like the Iowa, Florida and Minnesota bills, this legislation is a response to the effective campaigns of animal protection groups that have exposed systemic animal cruelty.
In some ways this New York bill is more dangerous than the others, because there is a greater chance of it passing. Senators Ritchie and Young are attempting to deflect opposition by misleading the pubic. The bill is titled as "relates to unlawful tampering with farm animals," while it is actually about stopping anyone who exposes animal cruelty. The bill is summarized as pertaining to meth addicts and homeland security, but the text makes clear that is focused on animal rights activists.
Everything about this bill, from the undercover investigators it criminalizes to its false and misleading re-branding, is about keeping New York consumers in the dark.