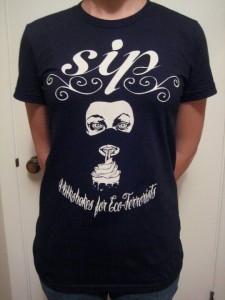 Whoa. It's like my two primary interests in life, milkshakes and "eco-terrorists," have gotten together and had a t-shirt baby.
Awesome shirts made by Sip, an all-vegan milkshake and juice cart in Portland, Oregon. I hear it's a limited run, so if you're interested stop by or order them online from Sip.
Part of the reason I love visiting Portland is that there are so many amazing people starting their own businesses, and not abandoning their ethics, their community, or their smart-ass senses of humor. If you're ever in town, please support Brian at Sip, along with all the great folks at Food Fight, Herbivore, Sweet Pea, Scapegoat Tattoo, Red & Black… the list goes on and on.
On another note, when's the last time you wrote a letter to a political prisoner? Check out the sidebar full of websites, and send them a note. And I really… can't… resist… saying this: pour out a vegan milkshake for your eco-terrorist homies.