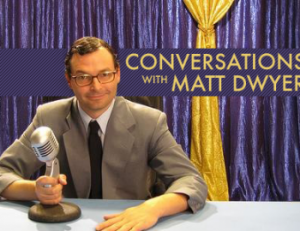 I sat down with Matt Dwyer, who hosts an excellent podcast and is also a comedian and writer (and he brought together a bunch of other comedians for a Hollywood benefit for grand jury resisters). I have a lot of respect for folks who are able to confront weighty political issues with a sense of humor, and I mean the "foul-mouthed Ira Glass" line in the best possible way. I hope you'll check it out.
Here's a note from Matt:
I am very proud to have independent journalist and author Will Potter on this weeks episode of "Conversations With Matt Dwyer." Will wrote a riveting book entitled Green Is The New Red: An Insider's Account Of A Social Movement Under Siege. We have a highly informative conversation about the courts being used to push conventional boundaries of what constitutes as "terrorism."  We also discuss how the FBI COINTELPRO intimidation tactics are still in full swing and how the government is willing to label leftist activist groups a threat when they ignore Neo-Nazi groups.

I know a lot of this sounds heavy but we also somehow pull this off while being highly entertaining. I think you'll enjoy it.
I do, too. Listen to the full interview here.