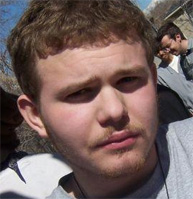 A Utah animal rights activist has been indicted by a federal grand jury on felony contempt charges for asserting his First and Fifth Amendment rights, and refusing to cooperate with the "animal rights terrorism" witch hunt. His trial is scheduled to begin on November 2.
The grand jury is investigating the release of thousands of mink from Utah ranches. Jordan Halliday has already served several months in jail for contempt of court for refusing to testify, and now the grand jury is going after him again.
Grand juries can compel people to testify without representation by an attorney. They are conducted in secret, and exist as a legal vacuum where First and Fifth Amendment rights can be deemed by a judge to no longer apply.
[Here's a "Grand Jury 101 from the Rockford Files."]
Halliday has a federal public defender in this case, but still needs to raise about $600 to pay his previous attorney; if you would like to make a donation, please visit his support website, www.SupportJordan.com.