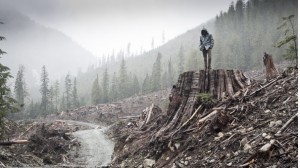 "If a Tree Falls" is a new documentary about the Earth Liberation Front and so-called "eco-terrorism" by an award-winning film team. I still haven't had the chance to see the film, but there's quite a buzz from its screening at Sundance Film Festival.
The film focuses on Daniel McGowan, who was sent to prison as a terrorist for his role in two ELF arsons, but it also takes a bigger look at the state of the environmental movement and the targeting of these activists as terrorists.
Filmmaker Marshall Curry told AFP:
"Obviously 9/11 completely changed the way that the public saw what they were doing…

"Suddenly massive amounts of money and resources are devoted to fight terrorism. You know, there's a saying that if you give a 2-year-old a hammer, he'll be able to find out how many things he can hammer with. If you give millions of dollars to fight terrorism, you might be surprised by how many things are qualified terrorism."
I spent time with Curry and Sam Cullman out in Oregon, as they were filming (and I was there reporting). I can't wait to see the final product. Until you get the chance, here's an interview with Curry and Cullman about the film.
Also, if you want to find out what happened to McGowan after the film:
"Government Acknowledges Secretive Prisons for "Domestic Terrorists," Proposes Making Them Permanent"