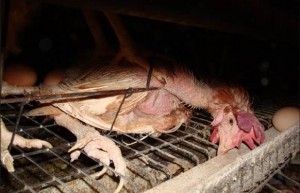 Iowa, Florida, and Minnesota are all considering bills that single out animal and environmental activists who investigate cruelty and pollution at factory farms. Now, one Florida senator is going even further, and saying that these undercover investigations are "terrorism."
As I wrote recently in this article about the bills targeting investigators and whistleblowers, groups like the Humane Society and Mercy for Animals have been incredibly successful at exposing the systemic animal welfare violations that take place in factory farms.
But according to Florida state senator Jim Norman, animal welfare advocates are only exposing these abuses to make money (yes, you read that correctly). Norman says of undercover investigators: "It's almost like terrorism, the way they go in."
This raises the question: who, exactly, are these activists terrorizing? It's not consumers, who have a right to know what they are buying. It's not the animals. And it's not the government, which has used investigations to initiate recalls of unsafe eggs and beef.
It's corporate profits.
I've written extensively about corporations, and the politicians who represent them, reaching further and further with their use of the word "terrorism." But this just might take the cake. To Norman and the politicians behind these bills, "terrorism" means investigating what corporations are doing, letting consumers see what goes on behind closed doors, and having the audacity to think that people should be able to decide for themselves how they spend their money.