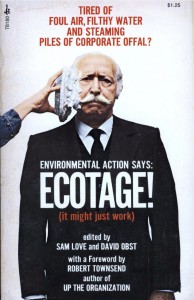 The history of the animal rights and environmental movements has been poorly documented by the mainstream press. The stories of these movements have overwhelmingly been ignored, and when they've been reported by newspapers or television networks, it has been through the lens of corporate and government officials. The best, and sometimes only, documentation of these movements has come from activists themselves.
Zines, leaflets and newspapers are fragile by nature, though, and activist turnover (combined with FBI raids) has made them increasingly rare. Josh Harper and the crew of TheTalonConspiracy.com have set out to create an online archive of these publications, preserving the history of protest movements for animal rights and environmentalism.
I was thrilled to be asked to write a guest blog post about a classic publication, Ecotage. It was published in 1971, when many of the tactics now considered "eco-terrorism" were merely considered pranks or "ecotage." In this post I discuss how corporations orchestrated a change in government policy by wielding the power of language. However:
Ecotage should serve as a reminder that there is nothing inevitable about this. The FBI labels "eco-terrorism" the "number one domestic terrorism threat," but public support is not, and has never been, with the corporations destroying the environment; it's with those trying to stop them.
Head over to TheTalonConspiracy.com and read the full post, then check out the rest of the archives. As a warning, though, the massive amount of cool stuff on that site will suck you in before you know it.