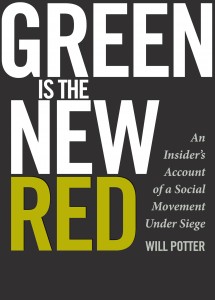 Publishing my first book was a nerve-wracking process, for a long list of reasons. Foremost among them was the notion that people were actually going to read the thing. I wasn't so much concerned with backlash from the opposition as I was about the response from activists, and their friends and family, who lived through, are living through, what I wrote. So it has been wonderful to see positive reviews come in from activist organizations, individuals, and publications I respect. The Earth First! Journal has a great review of the book, which you can read online. Here's an excerpt from Sasha:
[Potter] opens "the scene" to the casual reader, showing us that the Green Scare is not something that could happen, or something that is happening somewhere else to someone else; it is, instead, a near-invisible part of our everyday life. The Green Scare is something that permeates modern life, and if we do not understand its fundamental role as such, then we will understand neither ourselves, nor our crucial position in history. "Like the Red Scare, with its hysteria against 'godless communists' threatening the American capitalist way of life," says Potter, "this Green Scare is a culture war, a war of values."

…Potter moves beyond the repression by taking credible positions, positing distinct perceptions, that dismantle the ideological structure of the Green Scare, but his style is particular, individualized, and analytical; readers won't find a light at the end of the tunnel, a strategy to lead them out of the bonds of cruel repression, but they will find themselves in the midst of a significant realism at times visionary and prophetic, that will prove very useful in the planning and execution of actions in the future.
Read the full review at the Earth First! Journal website. And you can order a signed copy of the book directly from me.