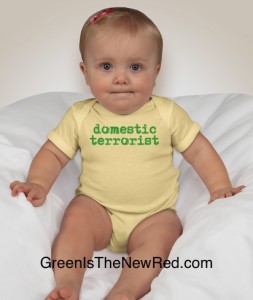 They leave a trail of diapers, sleepless nights, and general household destruction in their wake. If anyone deserves to be called "domestic terrorists," it's… babies.
New parents have been victimized by these bullies for far too long.
Stand up! Fight back! Your sick sense of humor will help keep GreenIsTheNewRed.com running.
Multiple sizes of these onesies based on the size of your terrorist. Yellow one-piece with green print.
$20