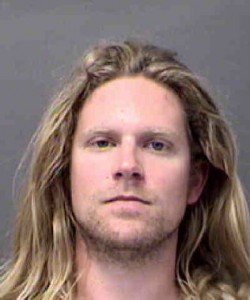 Charlotte police asked a court for an unusually high bail in order to keep a local activist in jail for a traffic violation, so that he would not be protesting the Democratic National Convention.
James Ian Tyson was arrested for driving with a revoked license. Charlotte police asked for a $10,000 cash bond. In a section of a law enforcement information sheet asking police to describe "Why do you feel suspect is a risk?," the officer responded:
"Known activist + protester who is currently on a terrorist watchlist. Request he be held due to DNC being a National Special Security Event."
Tyson is a Charlotte activist who has worked with Occupy Charlotte and the Rainforest Action Network.
He has no serious criminal history, but as The Charlotte Observer article by Gary L. Wright and Ely Portillo notes, the government's terrorism watch lists contain more than 400,000 names (by conservative estimates).
Many of those names are there mistakenly. But as I've written about at length, environmental activists are also included in these lists intentionally.
For prosecutors, the fact that Tyson is a "known activist" was enough to attempt to keep him away from the protests:
"That court document heightens our concern for public safety," Mecklenburg District Attorney Andrew Murray said. "Our goal is to protect the public. The document causes us to have concerns for public safety."
Chief District Judge Lisa Bell approved the $10,000 bond at first, then reduced at at the first hearing saying "no additional information was presented" to substantiate that Tyson posed a threat to public safety. Bell also said she was influenced by Tyson's lack of a criminal record and his ties to the community.