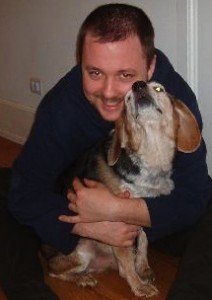 It has been a long journey, but after five years in prison — much of it in a secretive prison unit for "domestic terrorists" called a Communications Management Unit — Earth Liberation Front prisoner Daniel McGowan will soon be going home.
He is scheduled to be released to a halfway house in Brooklyn in December, which must feel like years away (when I visited him more than a year ago, he was already preparing for this). Returning home from prison is a difficult transition that requires plenty of planning and support from family and friends. Among the many tasks facing them is finding McGowan a job.
I have been corresponding with him about this, and he asked that I help share this information in case you or anyone you know may be able to help.
Here's a quick summary from his supporters:
In addition to having a Bachelor's degree, Daniel completed a paralegal course as well as every continuing education and vocational course available (over 25!) while in prison despite limited opportunities for education, as well as frequent moves. He is extremely driven and has a broad skill-set that he is looking to utilize at a NYC-based, non-profit organization. Much of Daniel's career experience from 1997 onward is within the non-profit world he has ample experience in development/fundraising, communication and IT positions. Daniel has a particular interest in working as a paralegal for civil liberties organizations but would welcome and appreciate work in any social justice fields.
His friends have created a LinkedIn profile for McGowan with more information.
Can you help? If so, please email friendsofdanielmcg@yahoo.com with "jobs" in the subject line.
UPDATE: Daniel has found a job! Thank you all for your help! There is still work to be done to make his transition home a smooth one. If you are able to contribute, here is more information.