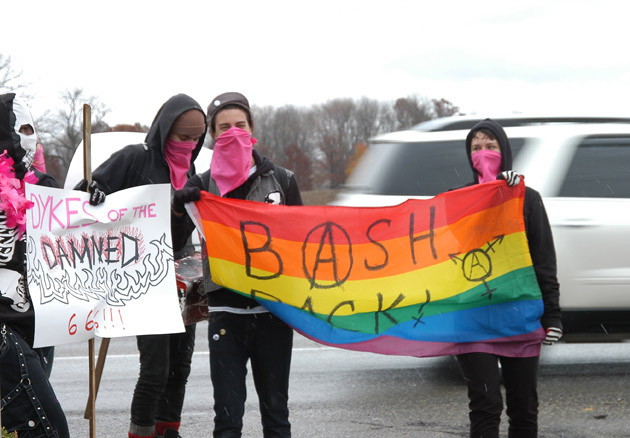 A right-wing Christian group and an anti-gay Michigan church are suing gay activists who "terrorized" the congregation by protesting, distributing leaflets and kissing.
The far-right Alliance Defense Fund is taking on the lawsuit on behalf of Delta Township's Mount Hope Church, which was "invaded" by queers in November.
Accounts of the day differ, of course, but they go something like this: Local activists affiliated with the Bash Back! protested the church, wearing pink bandanas and chanting slogans including "Jesus was a homo".
That was all just a distraction, though, so other activists wearing their Sunday-best could proceed inside unnoticed. When security guards were lured outside because of the loud protest, two women went to the front of the sanctuary and began kissing, while others threw leaflets over the balcony and unfurled a banner that read, "IT'S OKAY TO BE GAY! BASH BACK!"
The criminal complaint against Bash Back says church members were "terrorized by the Defendants' conduct inside the church," and that they felt the queers "might be violent." [Interestingly, the next paragraph notes that the defendant's agreed to move their protest at the request of the pastor. Not exactly "terrorizing" behavior.]
Perhaps my favorite reaction to all of this has been from Catholic League president Bill Donohue:
"If an organized group of gay bashers stormed a gay church, there is not a single sentient person in the United States who wouldn't know about it. This is urban fascism come to America's heartland."
Urban fascism? If gay bashers "stormed a gay church," it would be to use physical violence against people because of who they are. That's much different than gay activists using non-violent protest to challenge the ideology that fuels gay bashing (an ideology we could label "suburban fascism," if we're adopting Donohue's terminology).
Nevertheless, according to the Alliance Defense Fund, this "revealed how dangerous the homosexual agenda is."
Hmm. You want to talk about "dangerous"? "Dangerous" is not queer kids kissing. "Dangerous" is racists opening fire at a museum. "Dangerous" is right-wingers, espousing many of the same anti-gay, fundamentalist Christian views as these plaintiffs, murdering people.