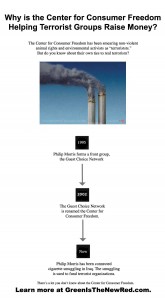 Last week the Center for Consumer Freedom, an industry front group, took out a full-page ad in The New York Times accusing the Humane Society of the United States of supporting "terrorism." Their crime? A speech at a "holiday gala" for a group called the Humane League. If you're not following, well, you're not the only one. The ad included a flow chart to explain CCF's convoluted logic, and their website has a 70-page document trying to support the flow chart.
CCF argues that they connect the Humane Society to bullhorn-wielding "eco-terrorists" in six steps, and in response I created a little contest called "Six Degrees of Consumer Freedom." I asked you all to trump CCF by connecting them to real terrorists in fewer steps.
I'm proud to say… we have a winner!
Karen left a comment connecting CCF to terrorism in two steps: CCF was created by Philip Morris, and Philip Morris has ties to cigarette smuggling, which directly funds terrorist groups. (Congrats Karen! You'll be receiving your "domestic terrorist" apron!)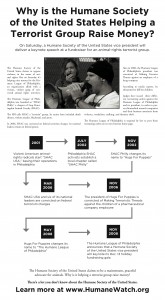 Below, I've added in my own research to substantiate the claims.
I created this new and improved version of the CCF ad… what do you all think?