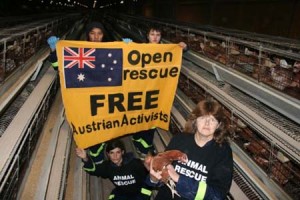 Good news just received from friends overseas! All 13 Austrian animal rights activists who were charged with being part of a "criminal conspiracy" were just acquitted on their final day of trial.
The announcement is a major victory in a case that has drawn international attention from civil liberties and human rights groups. The activists, from diverse animal protection groups, had spent more than three months in jail. During the year-long trial, it was exposed that Austrian police had been briefed by American and British counter-terrorism officials (more on EUROPOL's terrorism policies against animal activists here) and police had infiltrated activist groups to spy on lawful activity.
In brief, the government argued that both mainstream and "militant" groups were part of a criminal conspiracy–not because of their actions, but because of their beliefs in support of animal rights– and that they should therefore be held responsible for a wide range of crimes committed in the name of animal rights, and profits lost by corporations.
[This photo is of 13 hens saved by Australian activists, in solidarity with the Austrian defendants.]
When I was overseas last year I had the opportunity to speak to many activists closely tied to the case, and the similarities between these "conspiracy" charges and the conspiracy charges in the U.S. case of the SHAC 7 are startling.
The court case cost millions of Euros. In a secret interview with an Austrian daily, "Österreich", a police officer from the Austrian federal criminal agency said: "When we do investigations against drug dealers, child pornography traders, or Russian mafia, exceeding a budget is always a problem. But in this case, money was never an issue."
The media coverage in Austria has overwhelmingly been in favor of the activists, and the exposure of police abuses in the name of fighting "terrorism" have led to outrage beyond the animal rights movement.
It's unclear how prosecutors will proceed at this point, but if they choose to re-indict they will certainly have an international public relations nightmare on their hands.
Here's a video of human rights activists in Israel interrupting the Israel-Austria Davis Cup play-off game to protest against the ongoing persecution of 13 political activists in Austria.