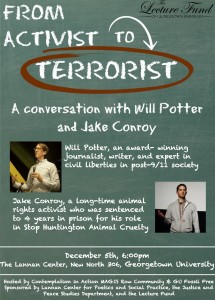 I'll be speaking at Georgetown University on Thursday, December 5th with Jake Conroy. The event is "From Activist to Terrorist." Here's more:
The FBI labels animal rights and environmental activists the "number one domestic terrorism threat," and new laws turn activism into "terrorism" if it hurts corporate profits. Unlike anti-abortion extremists and hate groups, though, these protesters have never harmed a human being.

How did this happen? Why are undercover investigators and those who use non-violent civil disobedience being treated so disproportionately? And what are the real life consequences for the activists who are investigated, and even sent to prison, as domestic terrorists?

Will Potter, an award-winning journalist who, after being told by the FBI he was on a domestic terrorist list, went on to investigate and expose these efforts in his book, Green Is the New Red. He will discuss how corporations manufactured the idea of "eco-terrorism," and why all social justice activists are at risk. His reporting and commentary have appeared in the Los Angeles Times, Mother Jones, and the Vermont Law Review, and he has testified before Congress. Green Is The New Red was awarded a Kirkus Star for "remarkable merit" and named one of the best books of 2011. He blogs at http://www.greenisthenewred.com/blog/.

Jake Conroy is a long-time animal rights activist who was sentenced to 4 years in prison for his involvement in one of the most successful animal rights campaigns in history — Stop Huntingdon Animal Cruelty. He will discuss being the target of a multi-agency terrorism investigation, learning he was on a high-profile prisoners list, and navigating living a life branded as a terrorist in post-9/11 society.

Presentation-Lecture at the Lannan Center for Poetics and Social Practice on the top floor of New North (New North 408) at Georgetown University @ 6:00 PM

Thanks to co-sponsors: Lannan Center Readings, Georgetown University, the Justice and Peace Studies Department, and Lecture Fund for helping us make this happen!
Here's the Facebook event page.
Do you want to bring Jake Conroy and I to your school? Here's more information. Get in touch!