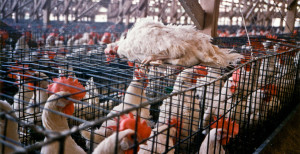 The agriculture industry is holding a conference right now about "ag-gag" laws, which criminalize anyone who exposes animal welfare abuses on factory farms and slaughterhouses. In response to the massive public backlash against the bills, the industry is now trying to keep journalists and attorneys away from its conference.
The conference is ominously called "Activists at the Door: Protecting Animals, Farms, Food & Consumer Confidence." It's hosted by the Animal Agriculture Alliance today and tomorrow in Arlington, Virginia.
The ag alliance invited media to register for the conference months ago. I took them up on that offer, and sent in my press credentials and asked to be registered.
They promptly denied me.
"The fact is you don't have the right to know where your food came from."
— Joe Miller, Rose Acre Farms, at AAA13
Emily Meredith, the communications director, wrote back that "The Alliance Summit is specifically for Alliance members, donors and other invited stakeholders affiliated with the Alliance." (That's a lie, as you can see here in their email asking media to register).
It turns out the alliance is also turning away attorneys, including Nicole Roth, who is on the board of directors of the Animal Legal Defense Fund. The ag alliance's response to Roth was even more candid: "…we reserve the right to deny registration to anyone who we feel will not aid our organization and industry stakeholders…"
As the Animal Legal Defense Fund reports:
Why else would an attorney, mom of two, with no criminal record or history of civil disobedience be denied access? Maybe it is because I am on the Board of Directors of the Animal Legal Defense Fund. Not only is the AAA prohibiting law abiding citizens like myself access to the conference, the AAA has also denied press passes to reporters known to critique their practices. Reporter Will Potter, author of Green Is The New Red, was similarly denied access.

It would seem that the AAA is going to some length to ensure that people with strong voices on one side of the issue are not in the room for their conferences. That might make sense if the AAA's agenda is to protect the businesses and profits of the agriculture industry. If they want to protect consumers, food, and animals, as they claim, then sharing information and having an intelligent debate would better serve their interests.
That's what this is all about: protecting corporate profits by keeping consumers in the dark. The ag industry has reason to fear public attention. Just look at what happened yesterday: just 24 hours after I broke a story about the first ag-gag arrest in the country and it went viral, prosecutors had dropped all charges. Right now, Tennessee Governor Bill Haslam is considering a veto of new ag-gag legislation.
The Animal Agriculture Alliance says this conference will provide "expert advice" on ag-gag legislation, and handling undercover investigations. Here's some better advice for corporate attendees: stop trying to hide.
UPDATE: Looks like someone has a video feed:
#AAA13 attendees upset public can watch their conference ihigh.com/alltech/broadc… Perhaps they want #aggagrestrictions for conference too?

— Ashley Rhinehart (@ARhinehart1) May 1, 2013